Flag 
of the Corporation DINAZ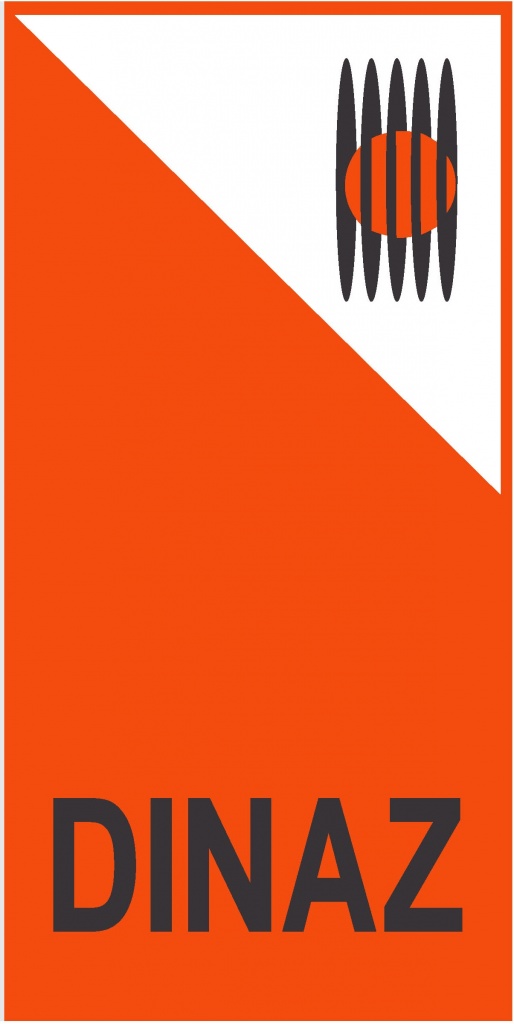 The flag symbolises rapid development and excellent prospects for the Corporation DINAZ.
 The dominant colour on the flag is orange (80%). In the upper right corner there is a white triangle  with the logotype of the Corporation DINAZ inside, i.e. spindles symbolising entrepreneurial spirit and diligence. Inside the spindles there is a bezant, i.e. the symbol of prosperity and abundance.
 The fireball inside the spindles is the fire burning in a blast furnace. No matter what happens, the ball is always fiery – an inexhaustible source of energy. The brick enveloped in flames symbolises the work, line of activity and business of the Corporation DINAZ as well as personifies its philosophy, endurance and strength in difficulties and trials.
 The name of the Corporation – DINAZ – is written in black on the orange part of the flag. The black colour stands for oil which is a reliable basis for business.
In addition, the black colour symbolises prudence, constancy, modesty, accomplishment, cautiousness and wisdom.
 The orange colour stands for oil and petrol which we convert into motion.
DINAZ is the energy of your motion. No matter the circumstances, the Corporation DINAZ will rise like a mythological bird Phoenix from the ashes and reach for the infinity. DINAZ is the inexhaustible source of energy.
Leave a comment, complaint, suggestion

Search the site:

Site map