Coat of Arms of the Corporation DINAZ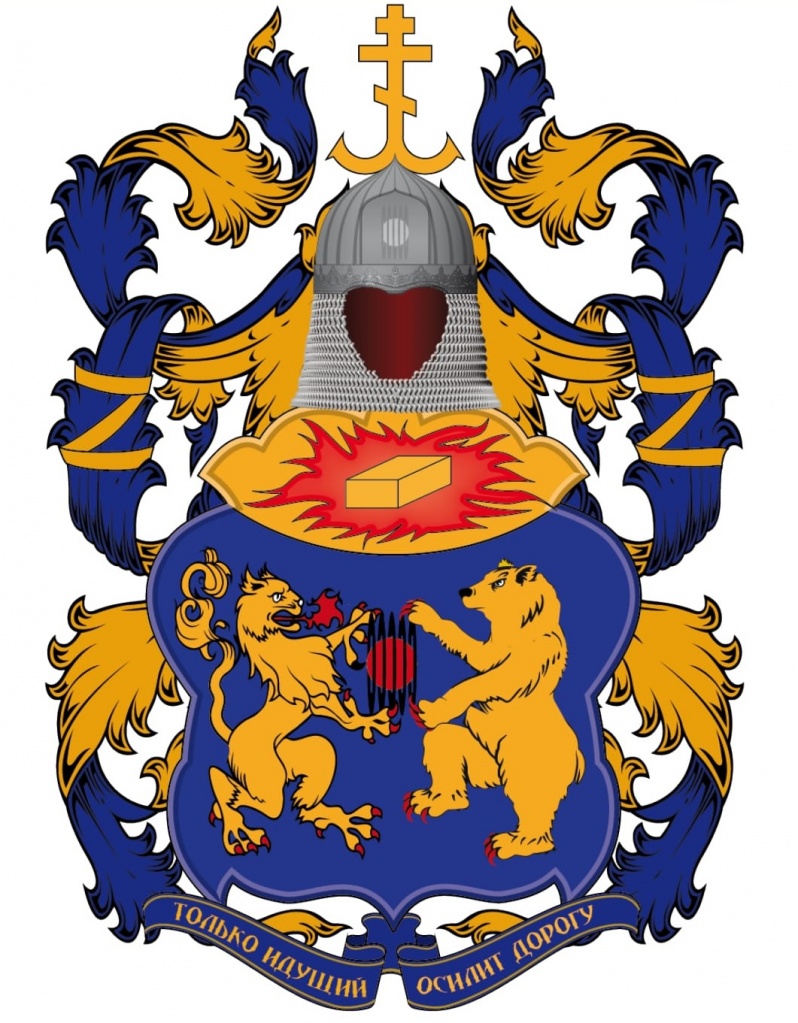 The images and symbols on the Coat of Arms:
In heraldry, the panther represents a courageous, daring and noble knight. It symbolises power, military service and participation in hostilities of several generations of the family bearing the coat of arms. This is the symbol of courage, power, determination, and confidence. Also, its "fiery" essence is frequently mentioned – it is depicted as fire-breathing or covered with small tongues of flame. In its paws there is a figure comprised of the heraldic spindles and a bezant. It is part of the logotype of the Corporation DINAZ. Spindles also symbolise entrepreneurial spirit and diligence. Bezant is the symbol of prosperity and abundance as wll as personification of the inextinguishable fire in the blast furnace, the inexhaustible source of energy.
The fireball inside the spindles is the fire burning in a blast furnace. No matter what, it is always fiery - an infinite source of energy. The harder they treat us, the stronger we become. This is the symbol of success, spiritual strength and unconquerable will. The bear is the traditional symbol of power, endurance, courage and strength. The brick enveloped in flames symbolises the work, line of activity and business of the Corporation DINAZ as well as personifies its philosophy, endurance and strength in difficulties and trials.
On the crest there is the eight-pointed Orthodox cross combined with the anchor. (In early Christianity, the image of the anchor was used as a disguised form of the cross due to its cross-shaped form). This figure personifies faith of the bearer of the coat of arms as well as his or her roots in seaport cities, i.e. Jurmala, Riga, Saint Petersburg and Arkhangelsk. Also, this is the early Christian symbol of hope and firm faith.
Through time and space we will reach for the infinity; therein lies the power of the coat of arms of the Corporation DINAZ. The Corporation DINAZ will rise like a mythological bird Phoenix from the ashes no matter what happens.
DINAZ is the inexhaustible source of energy. The motto of the Corporation DINAZ is: the road will rise to meet the one who walks it. 
DINAZ is the energy of your motion.
The bearer of this Coat of Arms will be the owner of everything.
Leave a comment, complaint, suggestion

Search the site:

Site map